Book Review: Artifice – Nights of Shadow (Book One), by Lianne Miller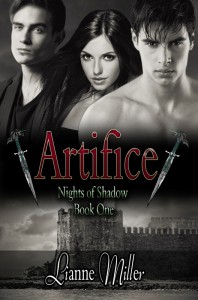 Eliza Ross isn't who people think she is. In fact, Eliza Ross isn't who she thinks she is.
The old saying is that the truth will set you free, but there are some things more compelling than truth. Eliza Ross finds those things in Dmitri Markov, a man sent to plague her–or so she thinks.
I'll have to try to write this carefully to avoid spoilers, because I know readers will want to experience this book the same way I did. What I will say is that Lianne Miller handles this genre very well, allowing the reader to see the world through the confused eyes of an unreliable narrator and without the intrusive framework that many authors insert into this particular type of story. In this case, Miller's deft handling makes it all work, and as Eliza learns more about herself, so do the readers.
Hospitalized with an unusual medical condition, protagonist Eliza questions her ability to function and make sense of the world around her, but she knows something isn't right. She is correct, and it will take time for her, and the reader, to peel back the layers of intrigue about what's really going on, and who the people around her truly are.
The pacing of this story is strong, and as to the mystery, the reader is left guessing, knowing, certain, and then … Well, why don't you see if you figure it out, too? ;-)
I cannot wait until Book Two comes out!
Want to read Artifice – Nights of Shadow on your Kindle? (Trust me, you do!) Get it here, or read the book blurb below.
Eliza Ross believes she is living an isolated life in Montana without family or friends. Then a mysterious stalker turns her world upside down. The cops think she is crazy, but the medical doctors soon discover that Eliza isn't normal—and they are determined to find out why.
Dmitri Markov is a Druzhina who knows everything about Eliza, but his mission is to make her forget. He will do whatever it takes to keep her alive and deliver her to Shashenka Belyakov. Other elite Druzhinas are sent to assist Dmitri in recovering her from the hospital. They will not fail.
An unlikely friendship with a mortal enemy only deepens the mystery, putting Eliza on a collision course with Dmitri and immersing her in a shadow realm where nothing is what it seems. As the truth unravels, Eliza learns that she must destroy the one responsible for enslaving her, or she'll never be free—but as she races into the unknown, she unwittingly sends Dmitri into a downward spiral that may doom them both.