Books on Deck: Spoiled Brats Romance Diaries presents My Amnesia Girl, by Marissa Marchan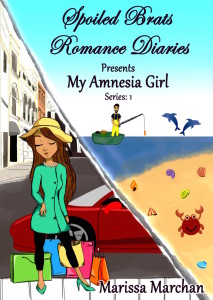 Vanessa Florence Grandeville, a Beverly Hills socialite and a well known spoiled brat, celebrated her twenty-first birthday in Honolulu with her rich friends. By complete coincidence, in a course of just one day, she kept bumping into Michael, a kind fisherman from a neighboring island. She despised and humiliated him. He fell in love at first sight.
When Vanessa and her friends rented a yacht and set out to sail for the weekend, complications arose. A terrible storm caused their boat to capsize and they all fell into the water. Everyone was saved, except Vanessa, who drifted away. By some strange twist of fate, Michael went far out to sea fishing and found her in the middle of the ocean with a head injury and amnesia. He saved her life, but was he really a hero?
In that one moment, unexpected events that are rather remarkable caused their lives to collide. Was life playing tricks on them? Would they ever be able to overcome their differences?