Books on Deck: Rebel Song, by Amanda Clay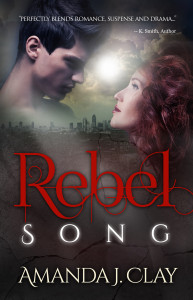 The once prosperous European kingdom of Arelanda has been plagued with poverty and corruption since the failed rebellion tore it apart. Now, rebels stir again in the capital's underbelly, vowing to depose the monarchy and overturn the unjust government.
Seventeen-year-old Rogan Elwood, son of a rebel leader executed for treason after the first rebellion, has borne a tainted legacy his entire life. As he is pulled deeper into conflict, Rogan must face his calling in the future of the rebel cause—waging his want for peace against his desire for vengeance. Everything changes when he falls for Elyra—beautiful, idealistic and determined to bring Arelanda a better future. She also just happens to be next in line to the throne—if the corrupt Minister General doesn't beat her to it.
Caught in the midst of a budding civil war and surrounded by enemies on every side, Elyra and Rogan must fight to save themselves and their country—and choose between each other and their duty.