Book Review: Dragon Zoo: Apocalypse, by Martyn Perry and Simon Carter
Dragon Zoo: Apocalypse, by Martyn Perry and Simon Carter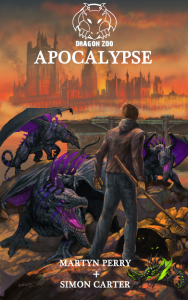 Dragons and London: those two things alone were able to get me excited about reading this book. First off, for those of you Anglophiles who want to know if the London in this book is accurately rendered, yes, it is. I worked in and around London for a decade, and I could picture the streets through which the characters walked.
Secondly, if you want your protagonists walking, fighting, and fleeing through London streets teeming (teeming, I say!) with dragons, this is definitely the read for you.
This is a fast-paced young adult novel with an emphasis on action and strong visuals. Sensory image is vividly detailed and the fight scenes (is it right to call it a fight scene when most of the characters are flame-throwing, scale-wearing, ripping, shredding, and tearing quadrupeds?) are intricately plotted out. There is a lot of attention to detail in this book, but it doesn't drag. Looking for action, action, action, and dragons? Make some action yourself, and grab this book.
Parents: This is a good one to engage a less reading-enthusiastic young adult. It can be read in bite-sized chunks and the action is interspersed throughout to help maintain the pace. Don't be surprised, however, when your reader gets to the cliffhanger at the end (blast you, Dragon Zoo authors–I need closure!) and demands you go to Amazon immediately to look for other books. Be aware, the book contains gore, very mild romantic interest, and some PG-13esque profanity.
Want to read this (and more!) Dragon Zoo titles on your Kindle? You can grab them all here, or read the back cover below.
It's been six years since the revelation that dragons exist; five years since the opening of the world's first Dragon Zoo in London; four years since dragons started appearing all over the world; two years since the zoos lost control and less than a year since the war came to an end and the world we knew changed forever.
Dragon Zoo: Apocalypse follows 15-year-old Rake and his group of friends, thrown together by the fallout from the dragon wars, as they risk their lives to travel across London. Rake wants answers. Where did the dragons come from? Why did the zoos lose control? Is anywhere in London safe? Is anywhere on the planet safe?
In an action filled young adult adventure, Rake and his gang face life-threatening battles, hoards of terrifying dragon species and an epic face-off with the ultimate predator of the dragon world.