Book Review: Her Sweetest Downfall, by Kellie Wallace
Her Sweetest Downfall, by Kellie Wallace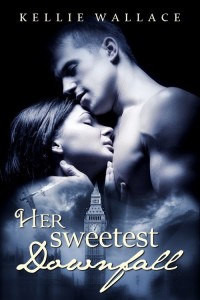 London during the Blitz, and the bombs aren't the only thing destroying lives. Read of wartime romance and loss in Her Sweetest Downfall.
Viola Craft's marriage is one of duty and heartache, and desperately trying to please her older husband, Vernon. Despite all of her efforts, however, he still wants the one thing that she cannot–and will not–give him. This book is the slow-motion tumble of lives under siege.
At times, Her Sweetest Downfall was challenging to read. Not because of any problems with the writing; much the contrary. The difficulties between the protagonist and her husband are well-rendered, and her indecision about what to do with her life in the face of societal constraints is painful and frustrating.
Readers will find themselves hoping Viola and those around her make the right choices and may feel a little heartbreak themselves. I guarantee there will be two points in the book that make readers stop and re-read, thinking that events couldn't have turned out that way. These lost opportunities add a sad realism of the book, however.
That said, without giving too many spoilers, the book comes to a satisfying, if unexpected, conclusion. Readers will find Her Sweetest Downfall a poignant read, at times a little frightening, but in the end, Viola's downfall may also be her salvation.
Want to read Her Sweetest Downfall yourself? You can snag it for Kindle here, or read the back cover below:
At the height of the London Blitz, Viola Craft, a sexually repressed young woman is trapped in a loveless marriage to her God fearing husband Vernon. She spends her days working in her mother's dress shop while Vernon pulls the dead from the rubble with his rescue crew.
Their marriage is turbulent and Viola feels pressured to bear a child. After failed attempts, Vernon believes she's barren and alienates himself from their marriage.
One night during an air raid, she meets alluring German born Kristoff Richter. They make an instant connection. He's young, good looking and emphatic. They embark on an illicit affair that leads to tragic consequences.