Book Review: Fallen Angel, by Ella Scarsdale
Fallen Angel, by Ella Scarsdale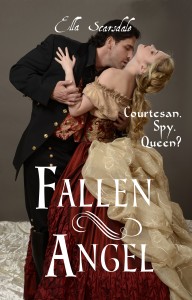 Fallen Angel is a story of romance and redemption. Arianna, a thief blackmailed into becoming a courtesan and spy, is cast into court life–and the arms of her king. 
Although I love reading, ever since I began a graduate degree it has been hard to find the time–or honestly, make the effort–to sit down and read. Fallen Angel made it easy for me to shake off the end of my semester, and was a pleasurable re-introduction to the world of "fun" books!
Fallen Angel is a nicely detailed romance that didn't feel like it was following the obvious path from boy sees girl/boy pursues girl/girl and boy end up arching loins/insert crisis here/tah-dah, wedding bells! The characters had some depth (and some sense!), and the romantic scenes were written more with the heart than the wandering hands. I am certain that anyone who has been drawn to another person will identify with these characters and their desire to be together, as well as their need to face their pasts and insecurities in order to do so.
It was easy to root for these characters. Arianna was a likable protagonist. Her character was human and plausible; flawed but trying. King Casper, likewise, was relatable. The fact that both needed to find redemption in each other was a refreshing change, as so many novels in this genre seem to focus on rehabilitating the big, bad, misunderstood man. My only wish for this book is that it were longer, as I curled up and read it in one sitting. (That is the biggest compliment I can think to offer, as I haven't sat still to read a book in a single sitting in years. Thank you, Ella Scarsdale!) This would be a perfect beach read or rainy-day read.
Interested in reading Fallen Angel for yourself? You can grab it for your Kindle here, or read the back cover below:
The young Arianna is a beautiful, mysterious presence at court. But her alluring smile hides a terrible secret—she is a courtesan spy, blackmailed into the service of the
unscrupulous Duke Henrik to uncover courtiers' secrets. She loathes her existence in Erlendour's castle. To her the luxury is a gilded cage and she wants nothing more than escape.
Just as her bleak existence seems overwhelming, she catches the eye of the handsome young King. Casper has a deep mistrust of women, but pressure is mounting for him to choose a bride and produce an heir to secure the succession. Thinking that he'll never love again, he agrees to choose a princess. But when he dances with Arianna at the selection ball, he realises his choice is now even more difficult…
Arianna will find herself torn between fear, honour and passion, as she risks losing everything in her last chance at happiness. She is a courtesan and a spy—but can she be Queen?